Takashi Fujikado
achieving visual rehabilitation after artificial retinal implant and creating comfortable vision in digital display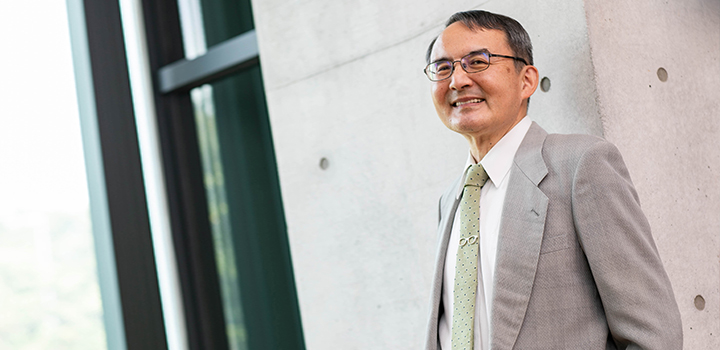 Main Lab Location:
Osaka Univ. (Suita Campus)
Other Affiliations:
Specially Appointed Professor Osaka University Graduate School of Frontier Bioscience
Mailing Address:
1-4 Yamadaoka Suita, 565-0871
Email:
fujikado at ophthal.med.osaka-u.ac.jp
The artificial retina is a medical device that aims to reconstruct the vision of people with severe visual impairment, and the main target disease is retinitis pigmentosa (RP). RP is a disease of the retina and is the second leading cause of blindness in Japan, but there is no effective treatment. The artificial retina acquires an image of the outside world with a small camera, and based on the image data, a stimulation current is created with an electronic circuit. The stimulation current is transmitted to the retina through the multipolar electrode to create a light sensation. In order to make this useful, visual rehabilitation is required and we will do this research.
Also, with the spread of smartphones and HMDs, eye fatigue has become a social issue, and there is concern that myopia in children will also increase. We will evaluate digital devices with less burden on the eye, glasses to reduce the burden, and contact lenses, and conduct joint research to achieve comfortable vision.
Selected Publications:
Fujikado T, Kamei M, Sakaguchi H, Kanda H, Endo , Hirota M, Morimoto T, Nishida K, Kishima H, Terasawa Y, Oosawa K, Ozawa M, and Nishida K . One-Year Outcome of 49-Channel Suprachoroidal-Transretinal Stimulation Prosthesis in Patients with Advanced Retinitis Pigmentosa. Invest Ophthalmol Vis Sci 2016;57: 6147-6157
Endo T, Kanda H, Hirota M, Morimoto T, Nishida K, Fujikado T. False reaching movements in localization test and effect of auditory feedback in simulated ultra-low vision subjects and patients with retinitis pigmentosa. Graefes Arch Clin Exp Ophthalmol.2016;254:947-956
Hirota M, Morimoto T, Kanda H, Endo T, Miyoshi T, Miyagawa S, Hirohara Y, Yamaguchi T, Saika M, Fujikado T. Objective Evaluation of Visual Fatigue Using Binocular Fusion Maintenance. Transl Vis Sci Technol. 2018 Mar 23;7(2):9.
Lab Members:
Researcher
・Yoko Hirohara (Visiting Researcher)
・Suguru Miyagawa (Visiting Researcher)
・Asaki Suzaki (Visiting Researcher)
・Toshifumi Mihashi (Visiting Researcher)